Thanks to Spoonflower for making this possible!
The basic quilting weight cotton is $18 per yard.
I've only seen the fabrics printed on that, but there are other, fancier fabrics, too: upholstery weight cotton ($32/yd), organic cotton sateen ($27/yd), organic cotton knit ($27/yd) and bamboo/cotton rayon ($27/yd).
You can get a test swatch for $5 to see if it really is the right fabric for you.
Follow the links below the pictures to make your choice:
For extra reference, here is what they look like through my camera (click for larger view):
Now I actually used Lab colours, duh (for some reason I didn't last time although I knew that Spoonflower recommends that). So they look pretty much the same in print as on the screen. Yay!
And now I know what kind of tablecloth I will have at the next Stockholm SPX – the diagonal version of this fabric. Though I'm not sure about which colour scheme goes best with my books. Maybe I'll work out a new colour scheme until then …
Also, I just noticed that Spoonflower has set up a way to sell fabrics through their site.
So, as of today, you can order these two fabrics for your own projects:
Sickly Cherry Forest
Sickly Pale Blue Forest
I haven't gotten test swatches for the diagonal version of this design yet, so it's not for sale. And in fact, the Spoonflower shop doesn't seem to allow for other repeats than basic repeat (yet?), so we shall see about that. Maybe I will need to custom make a diagonally repeating design … :3
I like sewing – clothes, household items and plush piggies, for example. Often I tend to break out in sewing madness when I'm stuck with one of my comic projects. However, one problem is that there are few patterned fabrics that are even remotely badass. It's all just flowers and (in the best cases) cutesy little animals in pastel colours.
There are some borderline cases of "slightly badass" patterns, like a some of the fabrics designed by Tula Pink or the 'Mendocino' line by Heather Ross. Especially Tula Pink is really inspiring. As a designer she has a background in the music industry, so she knows her way around skulls and monsters, and her fabric designs are, in her own words, "soft and sweet but still cool and interesting". And she lives in a farmhouse way out in the countryside. (In other words, part of me would secretly like to be her :3 …)
This summer I spent one month in the countryside outside Bonn looking after my doggie friend Henry while his parents went on vacation. With the change of scenery (and being stuck in a book project) I got a rush of inspiration to design my first fabric pattern …
The wild boar, death's-head hawkmoth, dung beetle, black slug and withered brambles can all be found in the forests of Germany. I didn't personally see any wild boars and death's head hawkmoths during my month in Bonn, but the other three elements I saw daily in great masses.
An even more badass steel blue colour scheme:
The lovely Spoonflower allows anyone to upload their own patterns and order prints in small quantities without ruining yourself. They ship worldwide, too. Here is my profile on the site.
After some testing I got the two above colour schemes to look like I wanted them to in print. And yesterday I made a slightly less natural scheme — here you can also se how the pattern repeats: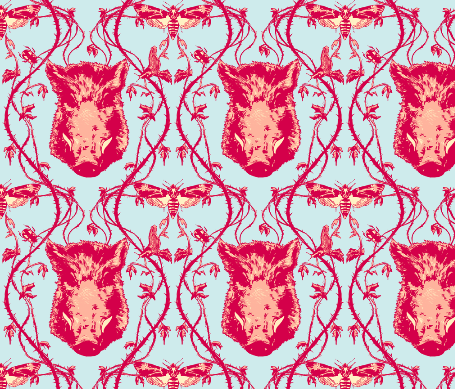 And here is a variation that I made recently, with diagonally distributed boars.
I still have to get a test swatch of the "cherry" colour scheme to see how it really looks in print. :3
I'm sure there will be more fabric patterns from TungusTkan' (TungusCloth). And maybe TungusTkan' will even sell the fabrics some day …