My webhost moved all their servers today (that's why the site was down for a few hours), so hopefully it won't be down again for a long time. V`(oo)´V
* * *
All this dialogue in this page was rather difficult. I kept asking myself if I was being too simple and obvious, or too obscure … I recently watched Priest, so I went with the more simple and obvious. :op
At least it was extremely fast to draw, for a change. V^(oo)^;V
* * *
The books Willie is referring to:
Codependent No More is a self-help book by Melody Beattie. I read it after breaking up from a very bad relationship, and it was quite an eye-opener (well, to this day I'm still struggling with the same problems). It talks a lot about focusing on yourself, to the point of embracing egoism.
(I suppose that it could be a useful antidote to stop your dysfunctional behaviour as a codependent. But I personally think the important issue is not to stop caring about others, but to learn to care for those who actually need it and appreciate it, in ways that are actually helpful and constructive — certainly including ourselves, first and foremost.)
There is a "Big Book" by Alcoholics Anonymous, which you can read in its entirety on their website.
There's also a "Big Book" by Co-Dependents Anonymous, which has a similar structure to the AA big book.
The CoDA big book is not available online, it seems, but Adult Children of Alcoholics have some basic and quite helpful texts on their site.
* * *
Now that's all rather depressing, so here's a warm-up sketch I did recently: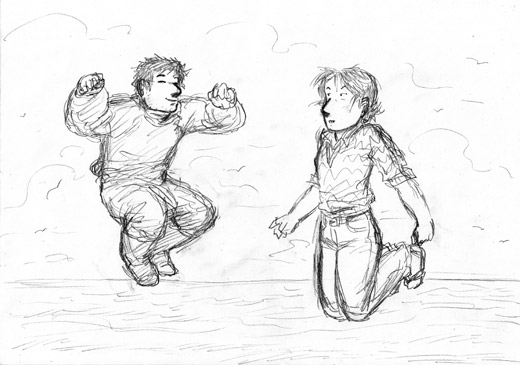 Whee!